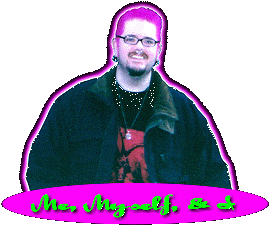 Me, Myself and I
Here you'll find all sorts of stuff that pours out of my head. Essays on politics, sex, and religion (all the safe topics ... haha), art, musings, grumpy kvetching, etc. Take a look around and see if I don't sound a little nuts.
---
Stuff I Wrote -- Essays on Santeria/Lukumi, Witchcraft, radical activism, Queer theory, and so on
A cool survey I snaked from a friend's site
Religious Art -- Pictures of Altars, Shrines, and Spiritual Artwork (COMING SOON)
---
What's Been Going On, you ask?
Where've I been? Been sticking close to home lately. Planning trips to Indiana, New York, and Cuba.
What's in my CD Player? "The World is Your Balloon" Ethel Merman

What's in my DVD/VCR?

"Angels in America"

Song I can't get out of my head: "With God on Our Side" Bob Dylan and Joan Baez
What am I reading? Bringing the War Home

by Jeremy Varon ... a book about the Weather Underground Organization, the Red Army Faction, and revolutionary violence in the 60s and 70s.

Current Favourite Quote: "Know, first, who you are, and then adorn yourself accordingly." -- Epictetus
What am I up to? Spending time with my friends Pete, Dee, and Adrienne, who I miss terribly (I've been laid up sick lately and not up to doing much. Preparing to auction stuff on eBay. Planning road trips and finally reuniting with my sweetie pie.
My Interests
Traditional Witchcraft –

Sabbatic Craft (Cultus Sabbati), Feri, Robert Cochrane's Clan of Tubal Cain/Roebuck in the Thicket tradition, British

Traditional Witchcraft. I am currently practicing and teaching the tradition taught to me 21 years ago by British Traditionalist Witches in Southern California. I teach in class settings, individually, and in my teaching coven Moonstag.

Afro-diasporic Religious Traditions –

Lukumi/Santeria, Vodou, Candomble. I am a Babalorisha, initiated to the Orisha Yemoja for 14 years. I have, however, retired and no longer function in the Santeria community.

The Study of Radical and Revolutionary History and Politics – Marx, Lenin, Trotsky, Che, Emma Goldman, SDS, Weather Underground, Panthers, Howard Zinn, Julius and Ethel Rosenberg, Angela Davis

Humour –

David Rakoff, Little Britain, Sarah Vowell, David & Amy Sedaris, Britcoms like Keeping Up Appearances, my friend Martin, my friend Dee, and my friend Adrienne, who are the funniest people I've ever met

Movies – I am no pretentious aficionado when it comes to movies. I don't know about cameras or lenses or if this shot or that shot is good or bad. I just watch what I like and the less self-conscious the movie the better. I'm an old movie nut (of course I am starting to hear people call the movies of my childhood "old" and it's making me grumpy), but I also love to see new things – comedies and horror mostly – Garden State, Napoleon Dynamite, the Grudge, Day After Tomorrow, Dodgeball, Saved, Mean Girls, Kill Bill, Saw – and dramatic, moving pieces like Angels in America, Shawshank Redemption and Chocolat (LOVED it) – stuff like that. Also LOVE documentaries. All time favourites? The Wizard of Oz and The Lord of the Rings Trilogy.

Just a Little TV –

Daily Show, SNL, SCTV, Law & Order (NEVER miss it), Arrested Development, and just about any documentary

Collecting books and DVDs

Music –

Ethel Merman, Judy Garland, Janis Joplin, Dinah Shore, Nina Hagen, Norah Jones, Ella Fitzgerald, Billie Holiday, Barbra Streisand, Frank Sinatra, Pete Seeger, Joan Baez, Sweet Honey in the Rock, Alanis Morrisette, Cass Elliot, Jennifer Holiday, Cleo Laine, Diamanda Galas, Bette Midler, Cyndi Lauper, Marlene Dietrich, Sophie Tucker, Megan Mullally, Yma Sumac, Betty Carter, Lambert Hendricks & Ross, Patti LaBelle, Joss Stone, Mae West, Harry Connick, Jr., Edith Piaf, Bob Dylan, Joni Mitchell

Queer Studies

Judaica Studies
My Current Favourite Stuff
These lists are NOT permanent or defining or ANYTHING ... they just reflect what's bouncing around inside my head at the moment
Art: "Starry Night" by Van Gogh (yeah, I know ... it's trite and mainstream. I don't care!)
Poems: Really into Dylan right now. Songs, I know, but poetry too.
Authors: David Rakoff, Dorothy Parker, Andrew Chumbley, Victor Anderson, Ronald Hutton, Fran Lebowitz
Books I Keep Coming Back To: The Brother: The Untold Story of Atomic Spy David Greenglass and How He Sent His Sister, Ethel Rosenberg, to the Electric Chair by Sam Roberts
Movies I Keep Watching Over and Over: Angels in America; 60s documentaries they keep repeating on PBS
TV Shows: "Law & Order (forever and always!); The Daily Show; Little Britain