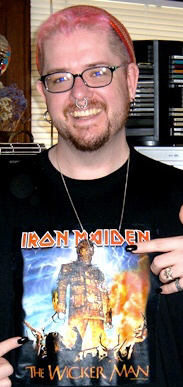 Big Ponderous Survey
Full Name: Shloma Menachem Mendel ben Avram v'Margalit Ha'Kohain Rosenberg (Hebrew name); Afolabi Awoyoyomi (Yoruba name); Cyclone (Witch name) Clayton D. Keck, Jr. (Driver's license name)
Education: 8th grade
Major: n/a
Minor: n/a
Nicknames: My family calls me "Bo" (don't ask, another Southern thing); Martin calls me "Woo" or "Doo" cause I call him "Pooh." My hubby calls me "Babe"
Birth date: 8/15/1968
Zodiac sign: Leo
Hair color: Right this instant it's maraschino cherry red
Eye color: Dark blue
Height: 6í6"
Personality type: Kind, concerned, decent, irreverent, nutty, random
Romantic: 24/7
Best Friends: My dad, Sean, Morgan, Kevin, Rowe, Brandon, Zazu, George
Kids: 2
Pets and their names: Cairn terrier (Libby)
Things you like to do: Live, love, know
Things you like to collect: Books, books, books, and books ... Oh and movies
Best advice you have ever given: Kneel before Zod!
Words or phrases you overuse: How odd. Fuck you. Nu? Kiss my ass. You dumb motherfucker. Oy vey. Mazel Tov.
Coolest experiences in life: Finding out that two friends in particular are true ones.
Stupidest thing you have ever done: Cocaine
Fav thing to do during the summer: my hubby
Fav thing to do during the autumn: my hubby
Fav thing to do during winter: my hubby
Fav thing to do during spring: my hubby
Special skills or talent: Double jointed all over, no gag reflex (put THOSE two toogether! lol) nearly photographic memory, world's fastest hair braider, artist (drawing, sculpture, beadwork), knowing the lyrics to just about every song Iíve ever heard.
Character traits you look for in a girl/guy: Sweet, kind, affectionate, insatiable
Future Goals: Revolution
Fav music: #1 is the amazing Frances Faye! Fag music (Judy, Barbra, Cyndi, Bette, Janis, Ella, Marlene, Billie, Dinah, Cleo), Folk music (Odetta, Pete Seeger & the Weavers, folky Dylan, Joan Baez, Joni Mitchell), Yma Sumac, Nina Hagen, Norah Jones, Madeleine Peyroux, Siouxsie, Kimya Dawson
Fav color: Pink and Black
Fav food: Indian, Jewish
Fav Snacks: Chopped liver on rye
Funniest person you know: Adrienne Young, Martin Tsang, Diana Ulintz, and my late best friend Grace
Fav sport: My favourite sport happens in the locker room after the game
Fav toy: My big giant Legolas doll
Fav cartoon character: Moral Orel
Fav Actor / Actress: Vanessa Redgrave, Meryl Streep, Cate Blanchett, S. Epatha Merkerson, Jerry Orbach, Conchata Ferrell, Piper Laurie
Celebrity crush: Anderson Cooper all day every day
Fav movies: Wizard of Oz, Lord of the Rings, Auntie Mame, A Rumor of Angels, just about any documentary
Fav animal: Giraffes; hedgehogs
Fav TV show: Law and Order (the original only, not all its unholy spawn), Wonder Woman, Robot Chicken, Moral Orel, Mighty Boosh, Catherine Tate
Fav month: May or October, I can't decide
Fav holiday: Chanukah
Least Fav holiday: anything honouring that poor dead Jew with the thorns on his head
Fav part of the newspaper: Gossip column
Fav Store: Best Buy, Munro Crafts, Fancy Beads, Botanica Yemaya y Chango, Borders
Fav clothes to wear: I am a shoe whore
The thing you despise the most: Ego driven pyramid scams disguised as religion (this goes out to YOU, $anteria)
Turn offs: drunks
Turn ons: uninhibited men, soft lips, dimples, guys who "take charge" (only in context), dyke daddies who like to top Queer boys
Thing I live by: be careful with one another; we are, every one of us, very fragile; Each according to his ability, each according to his need.
Croutons or Bacon Bits: neither (ugh, G-d forbid)
Favorite Salad Dressing: Oil and vinegar
Do you drink: no
Shampoo or conditioner: shampoo
Have you ever gone skinny dipping: well, Iíve been swimming naked, but being myself zaftig, I can't really call it "skinny" dipping
One pillow or two: 2
Dream Car: the one I have now is fine
Type of Car you drive now: 2006 Lincoln Town Car (my pimpmobile)
Toothpaste: Plus White
Online Crush: I DAREN'T say
Current beau/girl wife/husband: Yes I have one
Piercing or Tattoo: LOADS
Most romantic thing that ever happened to you: A trail of rose petals leading to my rose petal-covered bed where two champagne flutes and a REALLY expensive bottle of Moet waited ... And all this to celebrate a three month anniversary
Coolest thing that someone ever gave you: My troll Bleeker
Do you get along with your parents: They are my idols (mum has passed but I feel her everywhere)
Favorite town to chill in: Ann Arbor, New York, London
Favorite ice cream: Cookie dough in the US or Apple from Harrod's in London
Favorite drink: Peach/White grape juice
What's your bed time: Probably around 2 AM
Adidas, Nike, or Reebok: Birkenstock
Favorite Perfume/Cologne: Fendi Palazzo (men's cologne smells like B.O.; my man is only allowed to smell like Ivory soap or Lever 2000)
Favorite Novels: Carrie, Catch-22, The Curious Incident of the Dog in the Night-time
Favorite Magazine: I don't really read magazines
Favorite High School subject: none
Least favorite subject: all
Favorite alcoholic beverage: I don't really drink, but enjoy champagne once in a while (like four times in my life), and I usually force myself to drink wine at Passover; but often I cop out and do grape juice
Favorite sport to watch: Men's figure skating especially If the guy is wearing white pants
Favorite sport to play: yeah right
Most humiliating moment: My drug addiction
Favorite relatives: Mum and Dad
How is 2009 looking so far? Challenging but rewarding
What do you think of Ouija boards? I think they're made by Parker Brothers
What's on your mouse pad? Does anyone use mouse pads anymore?
In the car, A/C or open windows? A/C
Do you believe in yourself: let's not get existential
Favorite game: I don't really like games (does that make me an asshole?)
Favorite fruit: Fuji apples and zipper skin navel oranges
Worst feeling in the world: Seeing the sun come up after a night of insomnia
Best feeling in the world: Being in my honey's arms and feeling his razor stubble on my face
Favorite weekend thing: I don't really compartmentalize my week
Favorite soundtrack: Gypsy (the Merman one)
Where do you see yourself in 10 years? In the throes of revolution
What's the 1st thing you thought of when you woke up this morning? Oh Christ where is my blood sugar tester?
You get motion sickness: no.
Roller coasters: deadly or exciting? Deadly
How many rings before you answer the phone? However many it takes to find the phone
Future son's name: I have a son
Future daughter's name: I have a daughter
Are you a good friend? Yes
Chocolate or vanilla? Strawberry
If you could meet one person, living or dead, who would you like to meet? Ethel Rosenberg
Do you eat broccoli stems? Yes
Guys: if a girl asked you for the shirt off your back, would you give it to her? Why can't she get her own fucking shirt?
Girls: would you ask a guy for his shirt? OK I got something ta say ... I ain't a girl but there's some guys I'd like to see without their shirts and I'm not above using deceit to achieve that goal
If you could have any job you wanted, what would it be? I'd like to teach children History thereby fomenting revolution
If you could dye your hair any color, what would it be? I already dye it pink, which would be my choice
Have you ever been in love before? Excruciatingly so
What's on the walls of your bedroom? Paint and a few pictures
Is the glass half empty or half full? It's brimming over
Pick a song that describes you or you can relate to: "Do Nothing 'til You Hear From Me"
Coke or Pepsi? Juice
If you were to kill someone, which method would you use? Poison or maybe decapitation or a gun if I had a silencer (I really haven't given this as much thought as it seems)
Are you a righty, a lefty or ambidextrous? Ambidextrous (no kidding); I mainly write with my left hand and do everything else with my right, but can do anything with either
Do you type with your fingers on the right keys? Is there another way?
When you meet a person of the opposite/same sex, you first notice their: Eyes/smile, dimples if they are present
Have you ever saved your chat conversation? Yes
If you could do anything to the person you hated most, what would it be? Erase them from the akashic record
What's under your bed? I think there's a Popsicle stick. I can't reach it, but I think that's what it is. And there's probably an AA battery 'cause isn't there always an AA battery somewhere?
What's your favorite number? 14
Say something nice about the person who sent this to you: I stole it off the net, so I guess *I* sent it to me, and I am fucking awesome; but I guess I could say something about the guy I stole it from he's really cool and unique